Art Workshops
November 22&23 (Fri & Sat) Golden Birch-On-Birch Mixed Media Workshop w. Danielle Bartlette (2 day)
Friday, Nov 22: 9:30-3:30
Saturday, Nov 23: 12:30-4:30 (10 hours)
*Supplies not included in price. Suitable for beginners and advanced.
Need supplies? Bring your own canvas & a supply kit may be purchased for $80.
This kit includes unlimited usage of all required paints, gold leaf , inks, drawing materials, embellishments.
Supply list in ''additional information''.
Description
In this fun 2 day workshop, participants will learn how to build up layers to create an eye-pleasing abstract painting of birch trees. Everyone will produce their own unique painting to take home with them! Artist and painting instructor, Danielle Bartlette, will help you step by step throughout the day to ensure there is clarity in all the painting processes. Techniques learned will also benefit your future artworks!
Learn about negative/positive space and how to layer up paints for depth, build up texture, use mixed media including additional materials (gold leaf, glitter) effectively, and learn when to be spontaneous and/or have more structure.
HAVE FUN! No refunds for missed class but can gift your place to a friend.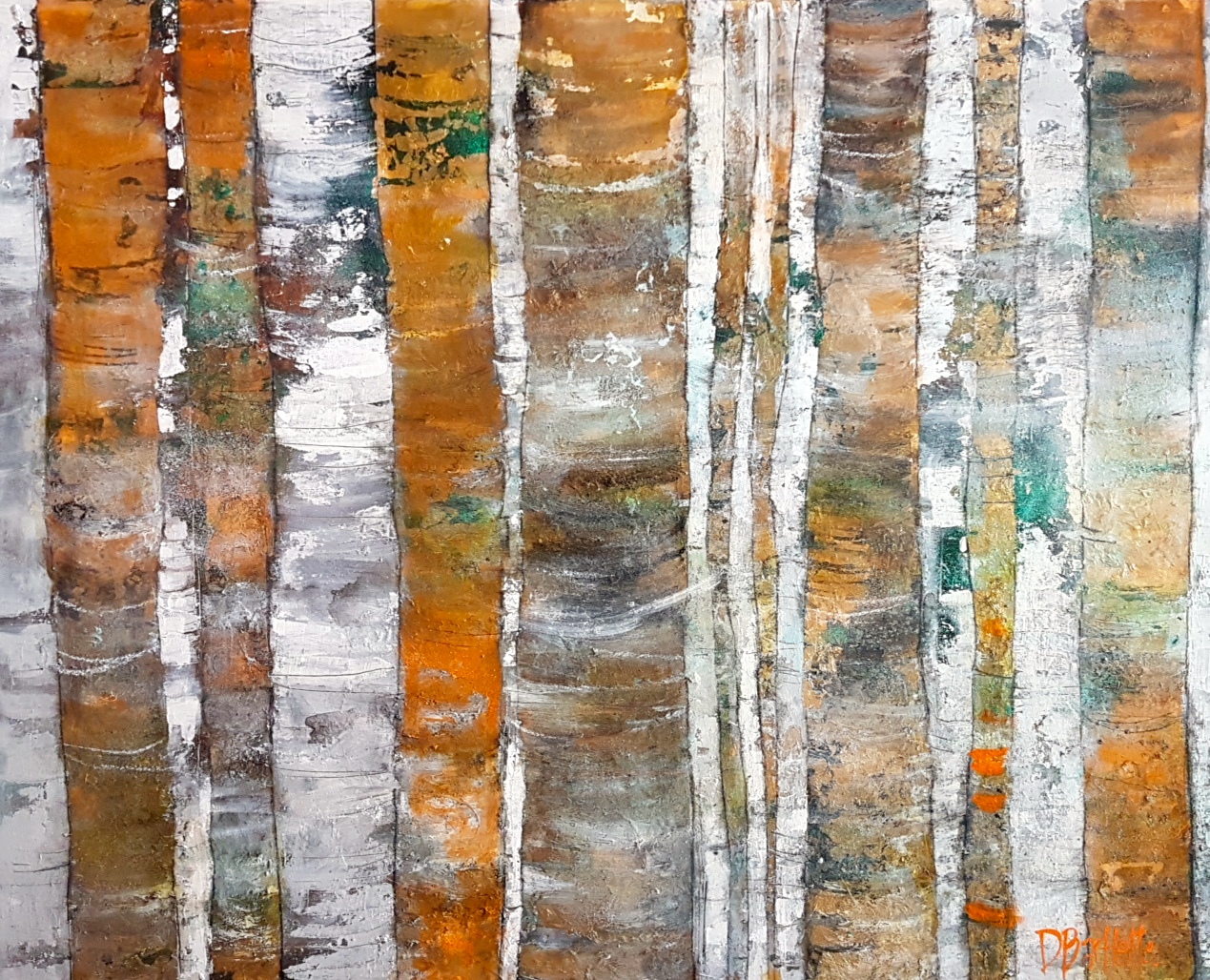 Additional Info
SUPPLY LIST (bring your own or order through us):
Minimum 30''x40'' or up to 36''x48'' canvas ( or two half sizes)
Acrylic paints:
-I USED Alizarin Crimson, Turquoise Deep, Mars Black, Titanium White, Cadmium Orange . I SUGGEST bringing all but the orange accents can be another colour of your choice
Liquitex Gloss Medium/Varnish (min. 273ml)
3 packs of loose gold leaf 25 full sheets (not simple leaf)
Vine charcoal small pack
Metal painting knife ( triangle at least inch long preferred)
Roll Paper towel
3/4 inch cheap, flat wash brush (soft bristles)
Sparkles - loose glitter *optional
gloves to protect your hands *optional
FW inks: Indian Yellow, Burnt Umber, Silver Moss *optional
Please feel free to bring additional/substitute colours should you make a creative decision on the fly.