Youth art classes
Sunday Kids Painting/Mixed Media 3:30-5:00pm w Danielle Bartlette age 6-11
FALL REGISTRATION IS NOW OPEN!
EXPLORE. Art Class options:
1) Sundays 3:30-5PM : 1.5hr sessions NO supplies included =$87/ 4 wk
2) Sundays 3:30-5PM: 1.5hr sessions WITH $30 supplies included =$117/ 4wk
EXPLORE. Kids art class (ages 6-11) is a great way to get kids to explore their creative process while making friends. Our young artists primarily create reference-based paintings and/or drawings that are ongoing projects from week to week. Sometimes we do clay and mixed-media projects. Art shouldn't be a drag ;)
IMPORTANT: Please review our policies below and our supplies suggestions is listed in 'additional information'
* The 'No supplies 'option allows for kids to bring in their own acrylic paints and canvases. Most special projects provided by studio are not an additional charge.
No refunds for missed classes
Instructor: Danielle Bartlette.
Neon Milkshake Art Studio #3, 7640 Fairmount Drive SE Calgary
POLICIES:
Children can join this class any time and no artistic experience is required.
Register for one month today and choose to keep your child's place from month-to-month thereafter. One month notice to withdraw child from class is required after initial trial month so we have time to fill the slot, thanks!
There are no refunds after registration. No refunds for missed classes. Fees for classes are due the last class of the month prior.
If a class is cancelled by the instructor due to illness/family emergencies, etc. credit will be given for future classes or a replacement teacher will facilitate the class in her/his place.
Parents/Guardians will be charged a late fee of $20 if 15 mins late to pick up student, and $1 every minute afterwards.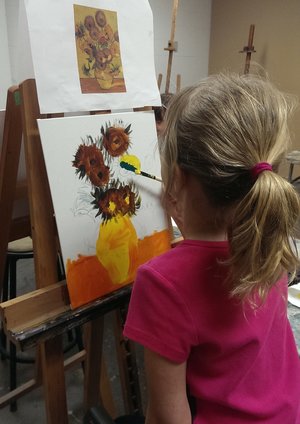 Additional Info
Supplies:

Assortment of cheap brushes
roll paper towel
Liquitex gloss medium & varnish
Assortment of canvases any sizes (bring in a few)
mixing palette (disposable sheet pads are best please)
Acrylic Paints:
red
blue
yellow
orange
purple
green
brown
black
white
*Bring in some ideas and painting/drawing references from home ie: images, stuffed animals, action figures, ipad (might get paint on these) or we have magazine images at the studio.